Orlando's
Metal Tile Roof - Best Roofing Contractors
There are types of metal roofing that look like tiles, shingles, or slate. As such, Metal Tile Roof is a great alternative to the traditional tile roofing. – Because it looks like one but with a lot of added benefits and advantages. To start off, they are more enduring than asphalt shingles! You won't have a hard time managing it as well compared to corrugate sheets. Definitively, more lightweight material as opposed to concrete or clay tiles – other advantages of Metal Tiled Roofs, you may ask? You may continue on below.
Why Choose Metal
---
As always, metal is known for how tough and durable it is. They are so heavy duty they could withstand inclement weather. This includes thunderstorms, snowstorms, and heavy rainfall! They can even stand against hailstorms. You won't have any leaking problems with metal. Likewise, the material is completely fire resistant. So even then, if you live somewhere with extreme weather conditions, you won't have any problem with metal. Leak-proof and fire-resistant all in one.
Despite being so enduring, metal tiles are absolutely lightweight. This won't hassle you in the process of its installation! Less support for the building's overall structure will be needed. Compared with other roofing materials, this won't exhaust your time upon installation. The amount of materials used will also be minimized! The fewer materials used means less money spent.
Metal Tile Roof is also very economically sustainable. How so? Upon transporting the material, not as much timber framing will have to be exhausted due to its lightweight property. The demand for fuel will also lessen as a result — compared to heavier options. These tiles can be 100% recycled as an added benefit. A wide range of styles, designs, and colors are available with Metal Tile Roof. You will be able to match traditional and modern designs because of this. Be as fashionable as you want.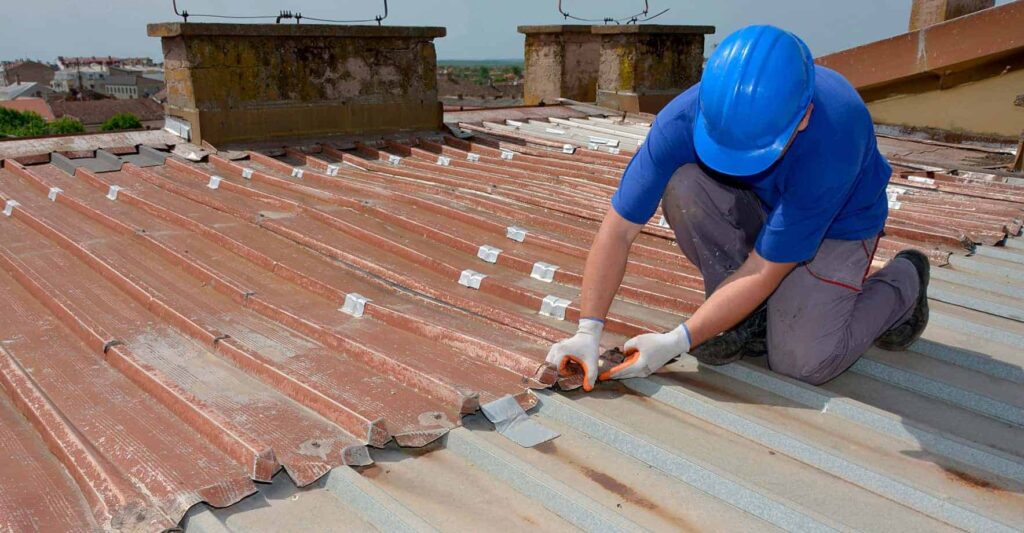 Disadvantages of Metal Tiles
Sadly, however, it has its own drawbacks. One of these is its cost. The initial cost for metal tiles can be expensive. Their price is a bit in the higher range than asphalt shingles. The good news is that the cost is not as expensive as those of wood shakes. However, despite the cost, it comes with a longer lifespan. This will last you for a very long time since it is so durable.
Consider the bigger picture upon availing of Metal Tile Roof. With Metro Metal Roofing Company of Orlando, we guarantee to offer you the most affordable pricing for your roofing choices! Despite the low cost, the quality of your roofing will not be compromised. It is not advisable for any type of metal roofing to be installed anywhere near saltwater. This is because saltwater promotes corrosion. Consider the area of your building first.
The number of specialists regarding its installation may be limited according to your area. To find an expert in Metal Tile Roof installation is important. The expertise of the installer is important because almost all problems are due to some type of error upon installation.
Metal Roof Materials
---
First off, there exist different types of metal roofing. These are the tin roofs, aluminum, steel, copper, zinc, and standing seam metal. Tin Roof is the least expensive one among the choices. However, it not as widely used as before. Some roofing companies or installer interchange tin roof with either aluminum or steel.
Aluminum on the other hand is not as cheap as tin but not as expensive as the others. The good news with this, aluminum is 100% recyclable. However, it is more prone to expanding or contracting than others. Steel is also a more expensive option. It is one of the most durable materials and can overcome expansion and contraction.
Copper and Zinc share the same properties as aluminum. Both have a long lifespan-extending to 100 years. However, Zinc is more prone to denting than the other choices. Lastly, the standing seam metal gives off a "ribbed" quality. Aluminum, steel, copper, and zinc can be used for the standing seam.
Metal and Asphalt
---
Let us weigh the options between metal and asphalt. Metal may have a sufficient variety of colors and styles. However, asphalt is more pleasing to the eyes. This is because there are enough color and texture choices to choose from with asphalt. With the variety of options, metal outpaces asphalt. Each type of metal comes in several formats like panel, shingle, tile, etc. Some of them can even mimic the appearance of wood and asphalt.
Whereas asphalt, standard colors are only available; the same with its texture and shades. Metal comes in with more benefits; those being fire-resistant and leak-proof. A long life expectancy is in the cards as well. With asphalt, they are less durable and does not weigh as easily as metal. A more favorable option for less cooling costs is metal as well. Due to the metal's reflective surface, heat bounces back into the sun. This results in less heat absorption. But with asphalt, heat gets absorbed into your home.
Metal Tile Roof Inquiries
---
Should you have any other inquiries, please contact us at Metro Metal Roofing Company of Orlando. We are happy to accommodate any of your other questions. Here at Metro Metal Roofing  Company of Orlando, we have several materials that can cater to you. From aluminum to standing seam, we have it.
Plus, Metro Metal Roofing Company of Orlando has consistently remained number one in the roofing industry. Thanks to the expertise of our team, we encounter almost no problem. Proper installation is important because this is the root cause of metal roofing problems. A bonus benefit with proper installation is you won't have to maintain as much with metal roofing!
We have a number of specialists that can accommodate your every need. From installation to maintenance, we ensure to give you the best. Other installation services include not only Metal Tile Roof. We also offer tapered panels metal roof, metal shingle roof, and many more. Call us now at Metro Metal Roofing Company of Orlando! We would be happy to work with you.
Time to Replace Your Roof? We Can Help
---
Considering roofing replacement? When it comes to roofing projects, many homeowners rely on professionals to get the job done. At Metro Metal Roofing Company of Orlando, our specialists stick to all the industry standards when installing metal roofing on both residential and commercial properties. Therefore, you can be sure of getting a sturdy roof on top of your house. As a result, you can get the best services from our company in the following fields;
What Locations do we Serve?
---
Metro Metal Roofing Company of Orlando is a name you can trust and rely on. Our metal roofing services were limited in Orlando, FL when we started. But with time our company has expanded and is now serving over ten locations within Florida.
It shows how reliable we are. Here are some places within Florida, where you can access our world-class metal roofing services: –