Orlando's
Corrugated Metal Roof Contractors & Installers
This roofing is oftentimes used in barns because of its low-cost and long-lasting qualities. However, they may also be used in residential, factory, and warehouse buildings among others. Not only that, they are flexible to use for both walling and roofing!
To start, Corrugated Metal Roofing is a metal roofing whose sheets have ripples or grooves on them. These grooves or ripples are what makes them durable and resistant. They are a good replacement for asphalt shingles. Compared to the latter, they come with a wide variety of benefits. Among these are its longevity, durability, and energy-efficiency.
Why Use It?
---
Due to their benefits, Corrugated Metal Roofing is a good option for beginners. Firstly because of how lightweight it is. This means you will not have to be hassled with using heavy items to support its overall structure. This calls for an easier installation process! Corrugated Metal Roofing is durable due to its texture or shape. As a result, the metal sheet has a wider span of surface area. This then enhances its durable quality and is more resistant to denting.
This roofing is resistant to both heavy weather and fire. So may it rain or storm or even hail, you can rely on its resistance against such calamities. Fireproof and leak-proof all in one with this metal roofing. They are economical to use as well since the material can be completely recycled. More light and heat are reflected back from the sun due to its ripples. This causes heat to be repelled, thereby reducing the chances for heat to seep into your house. With this, less cooling will be consumed.
Especially if yours has been coated with heat-reflective coatings. You will be able to save more. Plus, you will even save energy in the process! Through all these benefits comes its long lifespan. Because Corrugated Metal Roofing is so durable and resistant, it can last for decades. Moreover, you can tailor them according to your aesthetic needs. From traditional to modern aesthetic designs, you are able to do this with this type of roofing.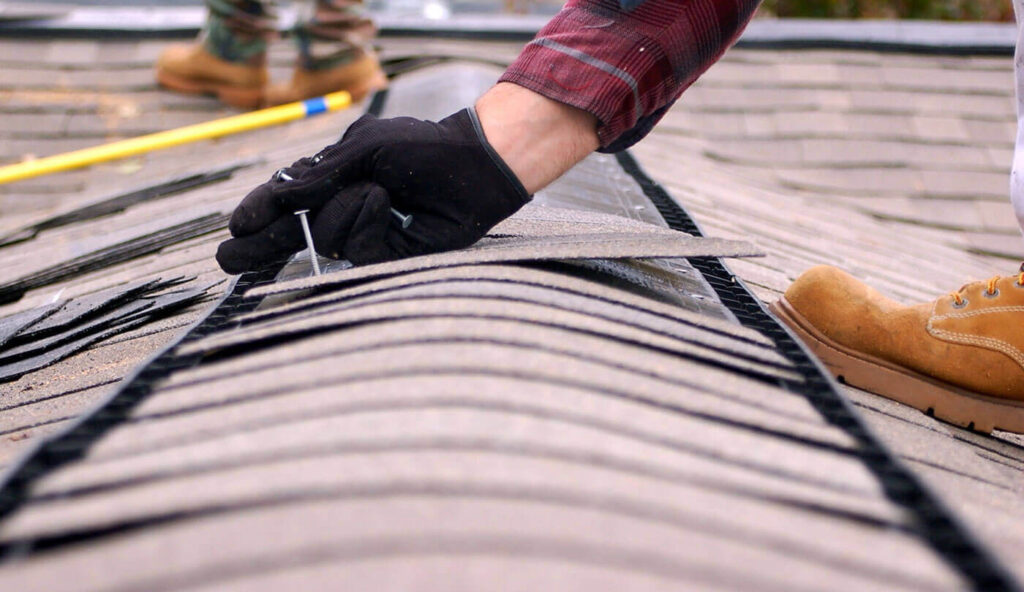 Available in Different Materials
Aluminum, stainless steel, and copper are among the popular choices. These three materials are unique form each other in terms of cost, appearance, and durability. The first is its aluminum counterpart. Corrugated aluminum roofing is the most used material due to its quality and value. Most homeowners especially prefer this material because it is the least expensive.
It also doesn't hurt the aluminum material is rust-resistant, pleasing to the eyes, and durable. The second choice is stainless steel. However, corrugated stainless steel is more expensive than aluminum. A gray tinge naturally appears on the steel sheets. This is why those looking for aesthetic purposes tend to stray away from this material.
Lastly is the corrugated copper roofing. It is pushed back towards the shadows more than the previous two. Moreover, it is the most expensive material among the three. However, copper is easy to install and naturally rust-resistant.  Not only are there different materials for Corrugated Metal Roofing. There are different coatings as well.
The most popular ones are ceramic and epoxy coatings because they have been the standard for years. However, ceramic coatings are not preferred for residential buildings. The accumulation of dirt may lead to lesser solar radiation being reflected. There are coatings that promote corrosion and fading like polyester and acrylic coatings. But due to innovation, there have been newer coatings made available in the market.
Good news for you! With Metro Metal Roofing Company of Orlando, a variety of choices is available for you. Whatever you may desire with materials and coatings, we got it just for you.
Drawbacks for Corrugated Metal Roofing
---
The first drawback could be the potential denting. However, this only happens if the material is not of quality. That's why customers have to be careful upon deciding which company to work with. Plus the variety of colors is not exactly wide with matte white being the standard. But the biggest turn off could be because of its price or cost. Corrugated Metal Roofing can withstand the battle of time. However, the initial cost may not be appealing to customers.
The cost may start anywhere from $160 to $650 per a hundred sq. ft. So this roofing may be a little bit more expensive than other options. It is understandable why others seem to have crossed this from their choices. But do not let that stop you! Despite the initial cost, you will be able to breathe with how low maintenance it actually is. Once installed, you can count on it to endure and withstand the next couple of years. Even for as long as 50 more years!
Plus, the advantages certainly outweigh the disadvantage. We at Metro Metal Roofing Company of Orlando promise you that the materials we use are high-grade and quality. We do not compromise the quality of our materials. You can count on us!
Contact Us Now!
---
Whether decided or undecided, we got your back here at Metro Metal Roofing Company of Orlando. Our company has consistently proved its name to our customers with our services.
Your satisfaction is our number one priority. For the materials and roofing you choose, we ensure to deliver with optimal quality. This is you won't have any hassle with maintaining your roofing.
Communication is also a must for us.  This is because errors are noncommittal to us in Metro Metal Roofing Company of Orlando. We materialize your roofing desires into existence!
As a bonus, safety is very important to us. Accidents may be rare, however, our staff in Metro Metal Roofing Company of Orlando ensures that the chances are zero to none! Harnesses, restraints, and all the appropriate equipment will be used.
You can consider us as your best friend. So, do not ever hesitate to press the call button to contact us, at any given moment! Do not settle for less than the best. Contact us in Metro Metal Roofing Company of Orlando. We got your back!
Time to Replace Your Roof? We Can Help
---
Considering roofing replacement? When it comes to roofing projects, many homeowners rely on professionals to get the job done. At Metro Metal Roofing Company of Orlando, our specialists stick to all the industry standards when installing metal roofing on both residential and commercial properties. Therefore, you can be sure of getting a sturdy roof on top of your house. As a result, you can get the best services from our company in the following fields;
What Locations do we Serve?
---
Metro Metal Roofing Company of Orlando is a name you can trust and rely on. Our metal roofing services were limited in Orlando, FL when we started. But with time our company has expanded and is now serving over ten locations within Florida.
It shows how reliable we are. Here are some places within Florida, where you can access our world-class metal roofing services: –